Solving industry-wide problems
The success and well known culture of Veterans United means many people apply for jobs, but too many applications were overwhelming the recruiting staff.

Helping people apply for the right job
The home loan industry contains a multitude of specialized job titles, making it difficult to apply for the correct job. As a result, the recruiters at Veterans United were processing with an unwieldy number of applications that were just "shotgunned" to multiple jobs.
Reducing applicant self sabotage
It wasn't uncommon for people to repeatedly check on their application status if they didn't hear back. While recruiters appreciated the enthusiasm, it was an inefficient use of their time and wasn't a good look for the applicant.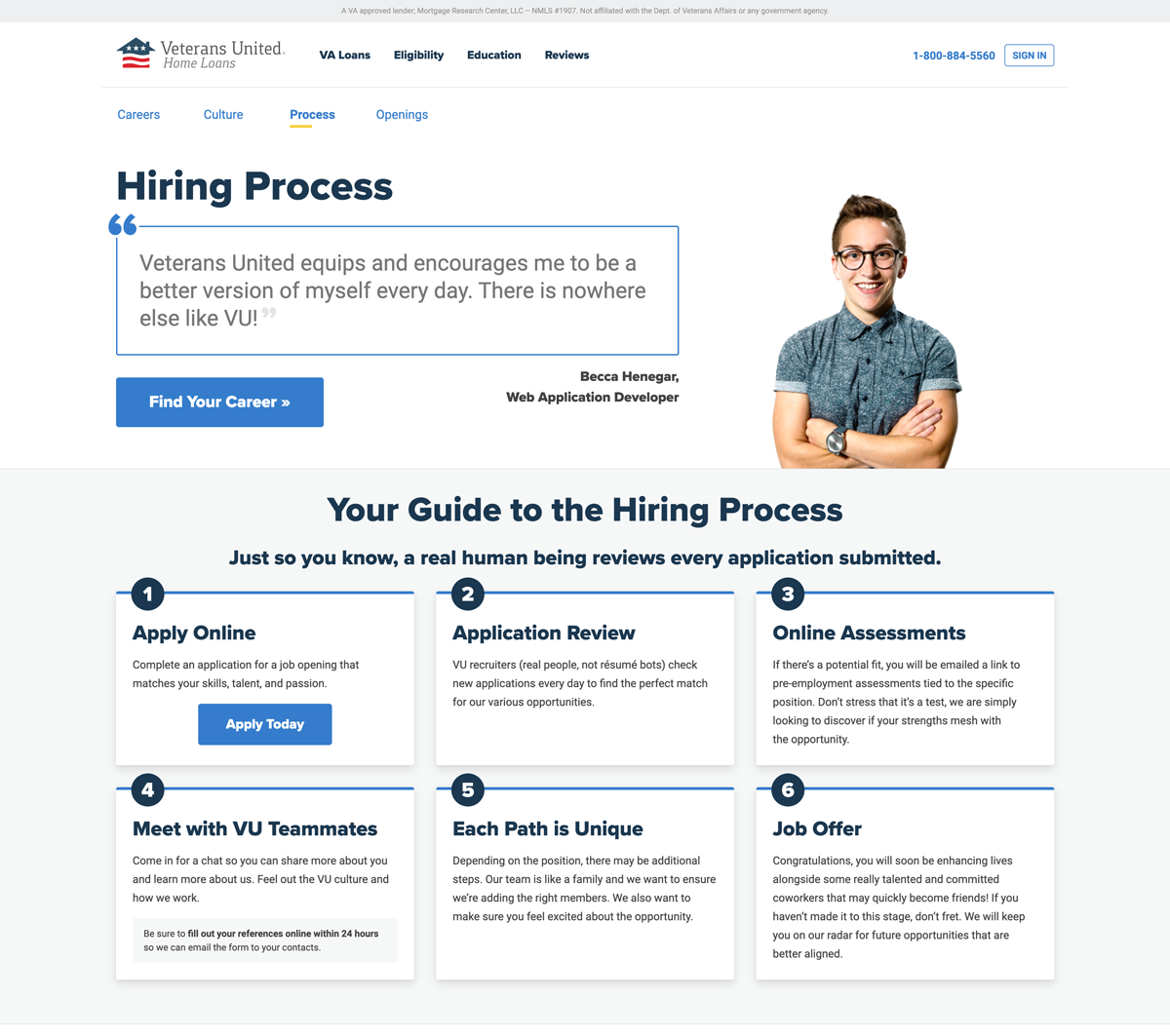 The solution: plain language
To remedy this, I worked with our recruiters to develop plain language taxonomies as ways to describe roles (rather than using industry jargon).
Less jargon, more meaning
Rather than traditional titles like "loan production officer", we organized those jobs as "Results minded" and tagged them with traits like, "Results oriented, Work direclty with borrowers, Competitive".
This provided prospective hires with no home loan industry experience a way to gauge what roles would be ideal for them.
No barriers to industry professionals
Because the official job titles were still industry standard, there was no barrier for experienced home loan professionals.
The results
There was a measurable increase in the quality of applications.
Increased recruiter capacity
Shotgun applications were reduced immediately. Our recruiters had more time to interview high quality candidates, rather than process mountains of misaligned applications.
Better applicant discussion
The plain language also provided a framework for dicussions with prospective employees about roles and responsibilities.
Collaboration, not just coordination
I worked to collaborate (not just coordinate) with the product owners (our HR recruiters and Chief People Officer).
Together we developed the language and created the information architecture that would make sense to outsiders. I created the UX/UI design, developed the UI, and provided photography direction.
Behind the scenes: managing conflicting priorities
HR and recruiting websites at any large enterprise always take a backseat to efforts seen as revenue generating. This project was no different and it was de-prioritized a number of times in its development.
As recruiters became frustrated with the lack of progress, I suggested a solution to get the project back up and running: Have the head of HR reach out to the Chief Marketing Officer and describe how excited they were about the new site and what it was going to do for recruitment and growth in the company.
After that phone call occurred, the careers site was assigned as my #1 priority.
This little action lead to a great working relationship with our HR team that would continue my entire tenure with the company.